Working with hearing loss: Hybrid schedules and video conferencing
by Envoy Medical Staff Member, on April 4, 2022
Working with hearing loss can present challenges, and the pandemic changed the way we work. Forty-five percent of full-time U.S. employees worked from home either all (25%) or part of the time (20%) in Gallup's September update of its monthly employment trends, suggesting remote work or hybrid schedules may be here to stay.
Social distancing and remote work created a significant increase in the amount of speech we hear that is mediated by electronic devices. Anyone who has participated in a zoom meeting has likely experienced the frustration of lagging, frozen, or buffering screens caused by poor internet connections or inadequate microphones or speakers that seriously reduce speech quality. These challenges are not part of face-to-face communication and require some different strategies.
Even if you have a mild hearing loss these issues can cause a full breakdown in communication and create additional stress. Fortunately, there are several things one can do to improve communication in these situations.
Improve video conferencing
Most computer speakers are not high quality, using headphones can bring better sound quality right to your ear, noise-cancelling headphones are the best option to filter out background noise.
Invest in a good microphone and encourage others to as well, the link below provides some great inexpensive solutions.
How to improve audio quality on Zoom
When video conferencing, choose speaker mode instead of gallery mode. Speaker mode makes the speaker visible in a larger box to enable speechreading. If another person begins speaking it will automatically enlarge their box.
Remember, not all virtual conferencing platforms are created equally. View this grid to see which ones are better for hearing loss and note that Microsoft Teams and Zoom are the only options that offer real-time captioning.
Advocate for yourself
Ask your place of work to provide accommodations for you, and make sure you have the right equipment at home.
High-speed Internet access is a necessity. While WiFi is what most of us use, it is better if your computer connects by Ethernet cable directly to your router.
Consider a second monitor which allows you to see captions clearly on one screen and everything else on the other monitor.

Remember, it's a good idea to test the equipment before a video meeting to make sure everything works well.
Air travel - protect your hearing
Don't forget to protect your hearing. When flying domestically or internationally you need hearing protection because planes are loud and engine noise over a long flight is uncomfortable and can damage your hearing.
Options include earplugs, earbuds, or noise-canceling headphones.
If you use an Esteem put it in standby mode and/or use headphones. If you use hearing aids find out if they have noise filter settings you can use while flying, in an effort to reduce the engine noise.
Loud Environments
All environments seem louder to us after being in social isolation for so long. If you haven't had your hearing checked and adjusted it's worth returning to the audiologist. Make sure to explain what new challenges you are having so they can help address your challenges.
Troy Kotsur become the first deaf male actor to win an Oscar!
Troy Kotsur won best supporting actor in the movie CODA which took home three Academy Awards, including Best Picture and best-adapted screenplay.
This is an important milestone for the deaf community, where oftentimes hearing actors are cast in deaf roles.
CODA stands for "child of deaf adults" and follows 17-year-old Ruby, the only hearing member of a deaf family who is depended upon to help her family's struggling fishing business by acting as an interpreter. Ruby discovers a love of singing and is conflicted with the idea of pursuing her own passion when her family depends on her. CODA can be viewed on Apple TV Plus.
Meet Esteem Partner Dr. William McFeely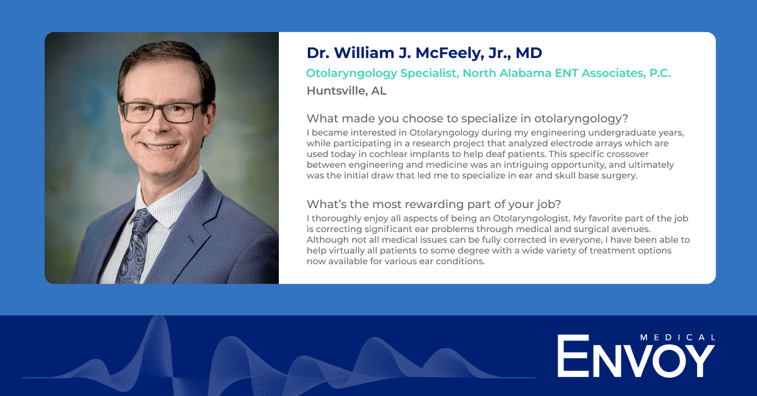 Advocacy: Your Help is Needed!
Envoy Medical Asks You to Urge Your Members of Congress to Support H.R. 1118, the Medicare Hearing Aid Coverage Act of 2021
Click here to request a letter template!