"We Hear You" wins at Cannes!
by Envoy Medical Staff Member, on August 28, 2021
Did you know that the word deaf and Deaf (with a capital D) mean two different things? Most of us are familiar with deaf as a general term used to describe people who have trouble hearing. However when someone is a capital-D "Deaf" person they consider themselves to be part of the Deaf community and Deaf culture which uses Americal Sign Language (ASL).
These very different experiences tend to be represented by mainstream media as one experience -Deaf. About 2 to 4 of every 1,000 people in the United States are Deaf. The number of people who are not deaf but live with hearing loss is much higher a 23% of Americans aged 12 years or older. However, when hearing loss is represented in mainstream movies and media we typically only see the Deaf experience.
While the pandemic was turning lives upside down and placing almost everything on hold a small group of women living with hearing loss came together across two continents to conceive, film, and direct a documentary about their varied experiences through the pandemic and their daily active lives. "We Hear You" is the result.
Executive producer Shari Eberts describes what hearing loss has been like for her, "The best way I know to explain it is as a game board from Wheel of Fortune. Some of the letters are filled in, others are blank. The contestant (or listener in this case) is trying to make sense of the assorted and incomplete sounds he or she is hearing and turn these sounds into a word or phrase that makes sense in the context of the conversation."
Winning Awards and Raising Awareness
The one-hour documentary follows four women living with hearing loss and documents the challenges and triumphs they each experience as they strive to live full lives. As these women share their experiences a much richer view of hearing loss is uncovered.
You might recognize Shari Eberts, as the driving force behind advocacy that resulted in Zoom finally offering free captioning to the hearing impaired. In addition to her blog and national recognition as a hearing loss advocate, Shari sits on the board of HLAA (Hearing Loss Association of America). Co-executive producers are Roxana Rotundo and Holly Cohen. are hearing advocates and live with hearing loss. Each of these accomplished women has struggled with and bravely shares their own experiences.
Raising awareness around what's often a gray area in which individuals are experiencing hearing loss yet are not deaf and using ASL was an important part of the project and it's gained a lot of attention.
"We Hear You" already won Best Film on Disability at the 2021 Cannes World Film Festival and was named an Official Selection of the Montreal Independent Film Festival and the IndieFest Film Awards. It's now in the running for the Annual Competition for a chance to become a Grand Winner and be screened in Cannes during the festival's annual Award Ceremony in 2022.
Click here to view the Trailer!
How to Watch "We Hear You"
The Hearing Loss Association of America is hosting a viewing of the film along with a Talkback Zoom session with the producers.
To watch the film Register here
After registering you will receive a link to watch the film at your convenience.
On Thursday, September 23rd at 7 pm ET the link will expire and the Talkback with the film producers will take place on a LIve Zoom.
Meet Esteem Partner Dr. John Li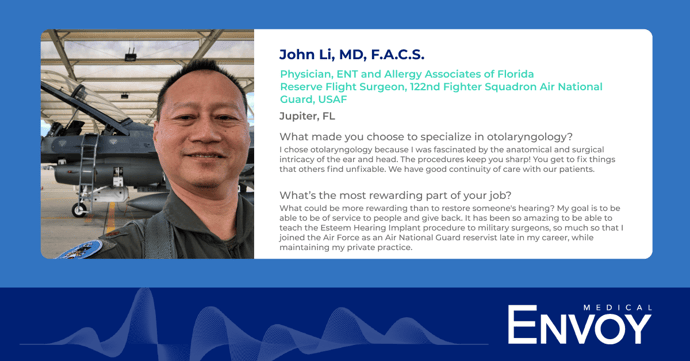 Advocacy: Your Help is Needed!
Help get the word out! Producers of "We Hear You" are hoping it will be picked up by a TV network and/or streaming service to raise the voices and experiences of people with hearing loss to a broader audience.
You can help generate excitement for the project! Share the captioned We Hear You trailer with others in the hearing loss community or on social media using the hashtag #WeHearYou.