Finding Support: What is HLAA?
by Envoy Medical Staff Member, on December 31, 2021
Hearing loss is the third most common chronic physical condition in the United States, twice as prevalent as diabetes or cancer. It's also one of the few modifiable risk factors for dementia and there are many studies linking untreated hearing loss to increased frustration, fatigue, stress and other psychological conditions including social isolation and loneliness. In short, there are a lot of us who need unbiased support and information at some point along the way!
The Hearing Loss Association of America, or HLAA, was founded in 1979 and is the nations leading organization representing consumers with hearing loss. HLAA works behind the scenes on Advocacy and is a great resource for education and assistance for anyone whose life has been affected by hearing loss. While you may have heard of support groups for people with hearing loss, this organization offers a lot more than just local chapter meetings.
The mission of HLAA is to open the world of communication to people with hearing loss by providing information, education, support and advocacy.
Advocating behind the Scenes
Recently the US House of Representatives passed the Build Back better Act of 2021 H.R. 5376. This act includes expanding medical coverage to cover hearing aids and services. HLAA has been lobbying Medicare for years and was instrumental in their advocacy and the education they provided to help Congress draft the bill. While, this bill may not pass the Senate there are several other bills around hearing care and HLAA keeps advocating.
Additional advocacy efforts include creating captioning standards, telecommunications accommodations, transportation accommodations, promoting communication access and ADA compliance. A full list of their advocacy efforts can be viewed here.
Support
Regardless of the severity of your hearing loss or whether you simply have a loved one with hearing loss, there is nothing like support from others who truly understand what it's like. You may need it from time to time or you might just like to learn what's working for others.
HLAA has chapters all over the country. Some meetings are in person and some are virtual (Zoom) meetings making your geographical location irrelevant.
For those that prefer an online message board or forum approach HLAA directs users to Mayo Clinic Connect. Learn more here.
Education and help is an ongoing need and a great place to start regardless of who you are. From learning about hearing loss and hearing tests to understanding technologies available and community assistance you will find current information here. In addition HLAA has a helpful links tab that is very well organized and is helpful when delving more deeply or broadly into a specific content area.
The more we take action and utilize support the better equipped we are to successfully manage this chronic condition and sharing what works can be very helpful. I recently hosted by parents in town from Florida for an early Christmas in frigid Minnesota. My parents had some reservations about being in groups and I knew we would need to get out of the house. I reserved a dining igloo complete with fireplace at a nearby restaurant. Not only was it a hit but there was zero background noise! If you or someone you love has challenges in loud environments, this is an incredible silver lining borne from creativity in the pandemic. I wish each of you a healthy and happy New Year!
Meet Esteem Partner Victoria Villarreal, Au.D, CCC-A, F-AAA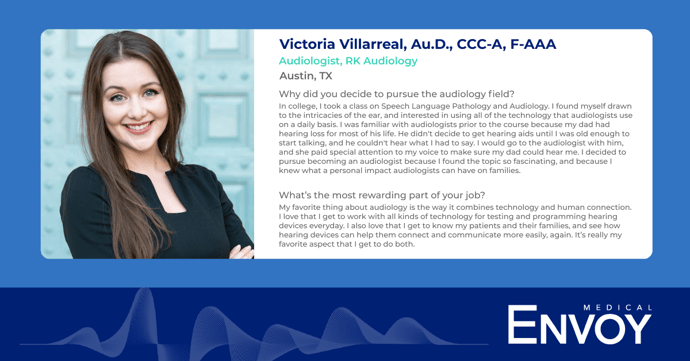 Advocacy: Your Help is Needed!
Envoy Medical Asks You to Urge Your Members of Congress to Support H.R. 1118, the Medicare Hearing Aid Coverage Act of 2021
Click here to request a letter template!