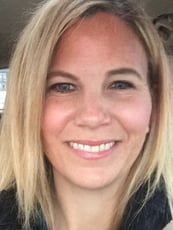 What do you do at Envoy Medical?
I work as a bridge between Envoy Medical and our customers. Our goal is to help people regain their hearing health, and patient empowerment is central to that. We use every possible opportunity to educate people efficiently and effectively, so they have relevant information and a good understanding of their hearing. I get the opportunity to work with incredible hearing health professionals, Esteem® recipients, and people all over the world living with hearing loss and exploring treatment options.People with hearing loss are at the center of everything we do. Whether they are Esteem patients or those that have not yet found the right option, we strive to understand each customer's needs, lifestyle, and unique values. Being a good listener is essential! Customer feedback is vital to our continuous improvement, and I learn a lot from our customers.
What brought you to Envoy Medical?
I have a personal connection to Envoy. Because I have lived with bilateral moderate to severe sensorineural hearing loss since I was in my teens, I was part of the early clinical trials for our fully implanted Esteem, which had an incredible impact on my life! The Esteem enabled me to function at a much higher level and has improved my relationships, confidence, and quality of life. While there is no single perfect hearing solution for everyone, I knew I wanted to work for a company that was changing hearing healthcare and knew others could benefit from this technology. Envoy's innovation in this space is inspiring to me, and I'm grateful to be a part of it.
What is your favorite part about working at Envoy Medical?
There is something special about working for a company with a first-of-its-kind technology and having the opportunity to be at the forefront of innovation. I love the energy and the opportunity to wear multiple hats as we bring life-changing hearing technologies to fruition. It's exciting and challenging work, and I am inspired by my colleagues' dedication to pushing technological boundaries so people like me can hear in a more sophisticated way.
Amy Pajula
Customer Experience Manager
12 years with Envoy Medical